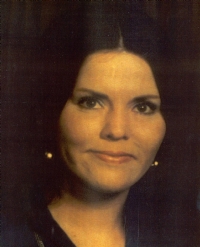 Name:

Judie Kay Lowery Mungia

Gender:
Female
Race:
Caucasian
DOB:
12/30/1948
Age:
72
Height:
5ft 3in
Weight:
150 lbs
Hair:
Black
Eyes:
Hazel

Last Known Location: Mrs. Mungia was last seen on May 28, 1981 in Odessa when she left home to visit a friend in Okalhoma City.

Missing Persons As Of: 05/01/1981
In May of 1981, 32 year old Judy Kay Mungia disappeared from her home on McKnight Street in north Odessa. She has never been seen nor heard from again.

S

he was supposedly was going to Oklahoma City and her vehicle was later found in an airport parking lot there...but those who knew her best, do not believe Judy Mungia would have ever just walked away, leaving her then 11 year old son behind. And, we think they are right.

There has been a lot of speculation over the years about what really happened to Judy Mungia and law enforcement officers believe foul play is involved.
Name:

Jennifer Lynn Wilkerson

Gender:
Female
Race:
Caucasian
DOB:
1977
Age:
26
Height:
5ft 5in
Weight:
110 lbs
Hair:
Brown
Eyes:
Blue

Last Known Location: Lubbock, Texas

Missing Persons As Of: 07/13/2004
The Lubbock County Sheriff`s Office is searching for a 26-year-old woman, Jennifer Lynn Wilkerson, missing under suspicious circumstances, believed to be in danger. She was last seen Tuesday morning, July 13, in the 2400 block of 118th St. Her boyfriend told deputies that Wilkerson was driving home from that location and then to work at Nothin` Butt Smokes. Wilkerson made it home; however she did not report to work. She also never called her employer or picked up her last paycheck, the Sheriff`s Office said. Her father, Jack Wilkerson of Hobbs, NM reported her missing Wednesday afternoon, after he failed to locate her. When sheriff`s deputies arrived at her home in South Lubbock County, they found Wilkerson`s car and two sets of house and car keys hanging on a hook just inside the door. Her roommate was also contacted, but said that he had not seen or heard from her.Jennifer was last seen wearing a red halter top, blue capri pants and black flip-flops. She has several tattoos: a small ladybug on the right rear of her neck, a dragon that wraps around her right ankle, a red rose with a small snake wound around the stem on her upper left arm, a butterfly on her back, roses on her right wrist, a fish on her stomach, a tattoo around her left leg and she wears a lip ring.